The preparation for the exhibition "Engineering and Technology-2015" held in GIS-Forum, one of the largest International Forum "Integrated Geospatial Solutions – the Future of Information Technologies" is in high gear.
State-of-the-art technical innovations, the latest software and hardware in the field of geoinformation industry and space monitoring will be demonstrated at the exhibition.
Any Russian or foreign company engaged in the development of geoinformation systems and services, geoportal solutions and software for processing and analyzing satellite images can exhibit their products. The ground-based stations for receiving and analyzing satellite images, unmanned aerial vehicles (UAVs), laser scanners, supercomputers and other innovations will be featured at the exhibition.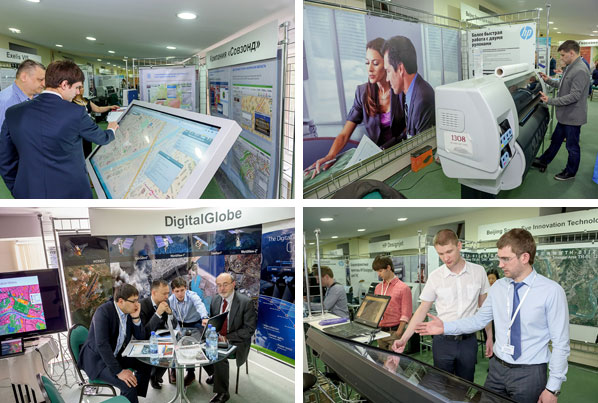 The exhibition "Engineering and Technologies-2014"
GIS-Forum will take place on the 15th -17th of April 2015 in Atlas Park-Hotel, Moscow Region. The deadline for early-bird registration is up to January 31st, 2015. Please, feel in the application form on the site http://gisforum.ru/ to participate and get a confirmation.
The terms of the participation can be found on the site http://gisforum.ru/2015/rus/exhibition.php. The number of exhibition stands is limited. More information you can get by phone +7 (495) 988-75-11 or by e-mail:  i.bobrish@sovzond.ru (Irina Bobrish).